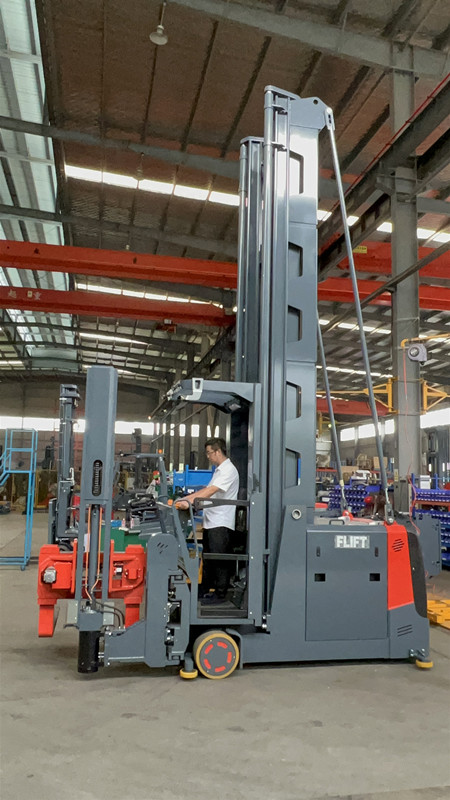 Man-up Mounted 3-way Stacker For Sale
Load Center600 mm
Mast closed height 5415 mm
Turning radius(outside)2235 mm
Vehicle weight7850 kg
Voltage80V/560Ah
We're here to help:Easy ways to get the answers you need.
FLIFT Brand Man-up Mounted 3-way Stacker

FLIFT Brand Man-up Mounted 3-way Stacker FLIFT man-up three-way stacker forklift is the latest generation of electric high-level stacking and picking forklift.The fork can rotate 180 degrees freely, and when forking goods in the warehouse shelf with ultra-narrow 1.65 meters aisle, the vehicle does not need to turn, the operation is simple and convenient, and the work efficiency of storage personnel is greatly improved.
Product name
3-way Electric stacker
(Man-up Turrent Type)
Model Series
MCC16-80
Maximum lifting weight Kg
1600
Load center mm
600
Main lifting height mm
8000
Auxiliary lifting height mm
1700
Total lifting height mm
9700
The maximum height of mast when lifting mm
10630
driving style deg
Seated/stand up
tire configuration
PU
power type
lead-acid battery
Fork size (LxWxT) mm
1200×125×50
Fork outer distance mm
260-725
Vehicle length (including fork) mm
3690
Vehicle width b1/ b2(mm)
1244/1502
Mast minimum ground clearance mm
45
Mast closed height mm
5415
Free lift height mm
/
Vehicle weight Kg
about 7850
Turning radius (outside) mm
2235
Stacking Aisle width (1200*1000 pallets, load center 600) mm
1650
Maximum driving speed (full load/no load) km/h
10/10
Rising speed (full load/no load) mm/s
320/320
Side moving speed (full load/no load) mm/s
200/200
Tire size Load-bearing side
Φ380×192
Tire Size Drive Side
Φ400×160
parking brake mode
Electromagnetic brake
Steering
electronic steering
Voltage/Power V/Ah
80V560AH
Drive motor Kw
8
Lifting motor Kw
21
How to replace the battery
Side-pull type
Main Aisle width mm
≥(4080+400)
►3-way pallet stacker forks can rotate 180°and do left-right side shift without body turning,
with high strength mast design. Min. net channel: 1500mm;
the main lifting height is 8.5 meters, the secondary lifting height is 1.7 meters,
and the total lifting height is 10.2 meters.
The 3-way pallet stacker can improve space utilization and increase the storage capacity.
►Advanced Curtis controller and more stable, safer whole-AC system
for high efficiency, energy conservation and environmental protection.


►Maintenance-free whole-AC driving system for quick and accurate reaction.
Maintenance-free motor, with long service life and low noise and low maintenance cost.


►Standard electric power steering is safe and reliable, with easy and comfortable operation.


►Large section mast structure design to ensure the rigidity
of mast and improve loading performances, which is very suitable for high shelf storage.


►Imported hydraulic parts for stable and reliable hydraulic system.


►Side pull type battery for convenient charging and maintenance.
We offer 2 years or 2000 working hours period of warranty to our partners.
In case of any defects or quality problems during the warranty period.
Maximal will supply technical and spare parts supports to help our partners solving the problems immediately.
7X24 onlineservice are ready for you to ensure your equipments in excellent working condition.

Please fill in your procurement needs and contact information