FLIFT optional engine and configuration 5 ton diesel forklift 3-6 m lifting height Diesel fork lift price
Date: 2022-07-06 View:
Forklift 5 tons hydraulic diesel forklifts truck fork lifter heavy logistic equipment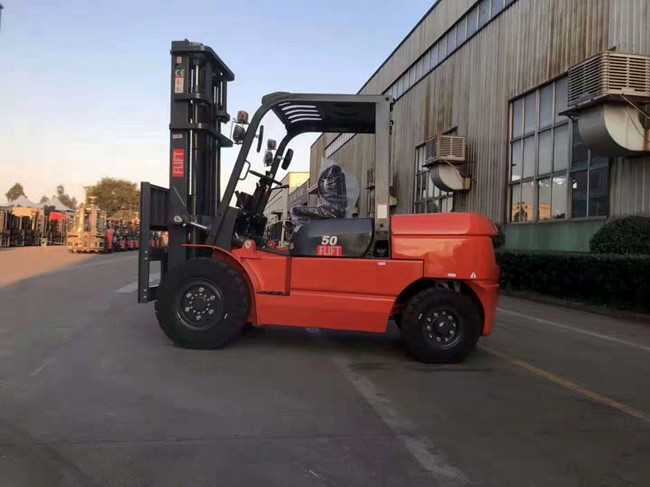 > The whole system comes standard with intelligent start system, vehicle hanging gear start preventing, improve safety and extend the service life of the gearbox.
> Seat with belt, provide a more comprehensive security for the driver.
> Overhead guard with high-strength steel plate stamping molding.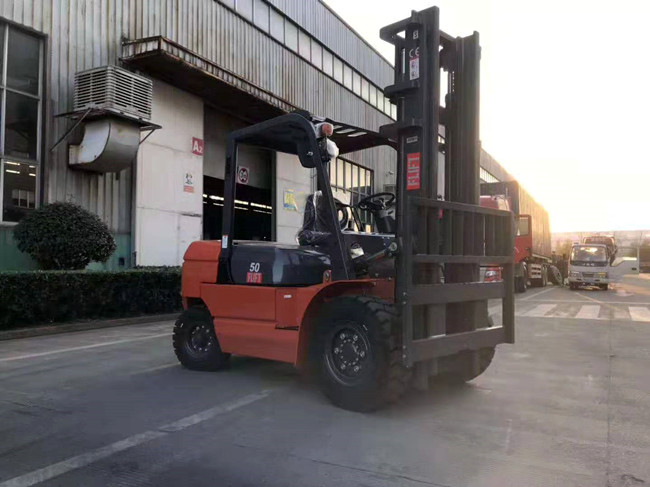 Wide view mast design, providing superior vision, making the operation more secure.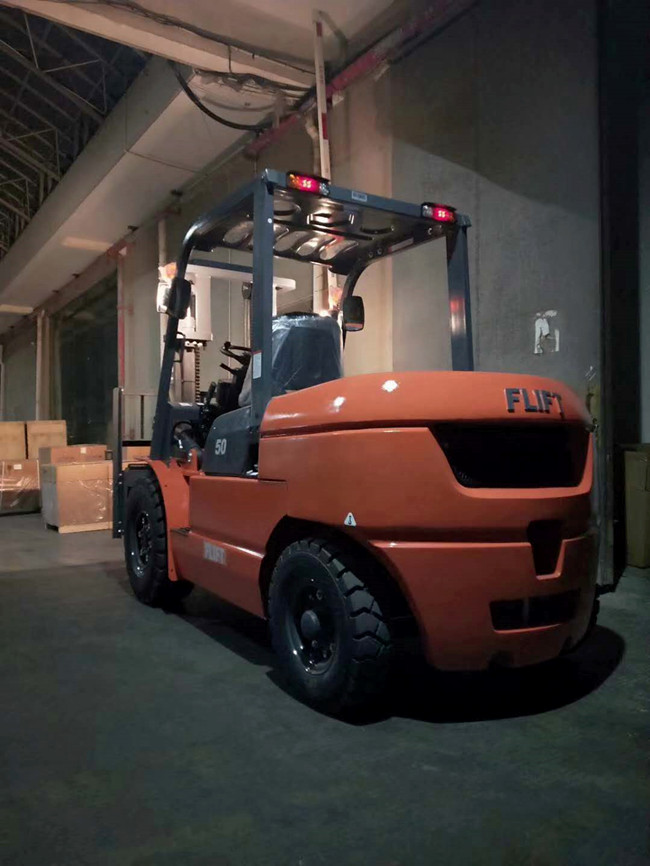 Double pump combined hydraulic system, hydraulic control valve integrated active shunt technology, improving working efficiency and reducing consumption.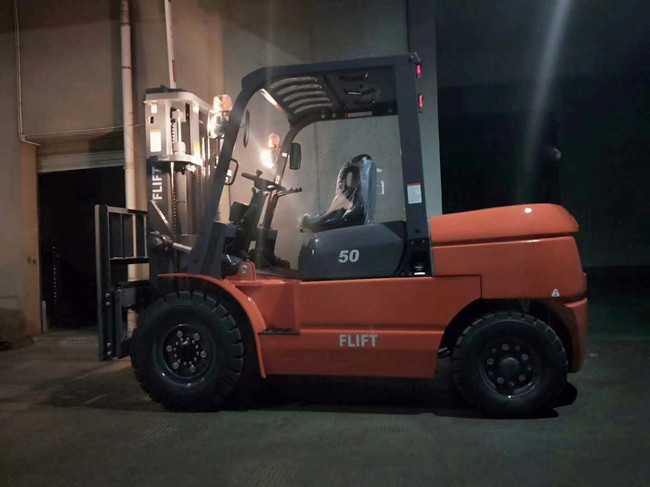 > Engine intake with high independent channel, dust prevent at the same time effectively enhance the engine intake, so that the engine can burn more fully.
> Cooling system meet the requirements of the China I standard. The inter-cooling, scattered water, oil scattered are independent layout,which greatly increase the engine, gearbox and other core components quality.
> Standard high-performance vacuum power, full hydraulic power brake system, effectively enhance the reliability of driving and emergency stop.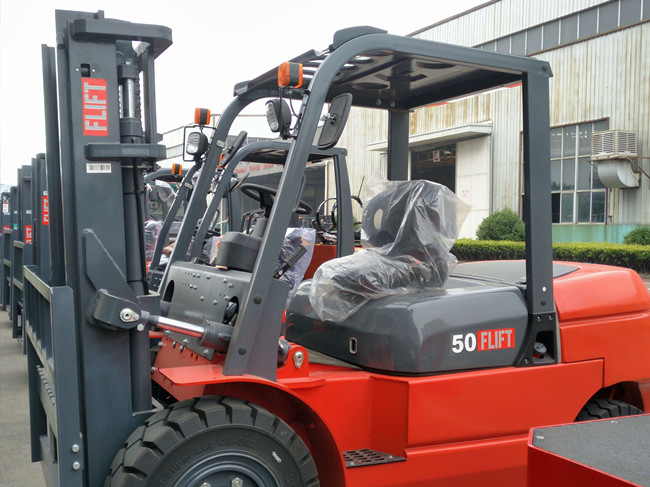 Comfortable driving experience, reasonable functional layout, which ensures the operator a long time comfortable and security operation.
FLIFT 5.0 ton diesel forklift specification

| | | |
| --- | --- | --- |
| Model | | FD50 |
| Rated Capacity | kg | 5000 |
| Load Centre | mm | 500 |
| Lift Height | mm | 3000 |
| Fork Size | mm | 1070*150*55 |
| Mast Tilt Angle | Deg | 6°/12° |
| Front Overhang (Wheel Center to fork face) | mm | 570 |
| Ground Clearance (Bottom of mast) | mm | 170 |
| Length to face of fork(Without fork) | mm | 3245 |
| Overall Width | mm | 1430 |
| Mast Lowered Height | mm | 2270 |
| Mast Extended Height(With backrest) | mm | 4110 |
| Overall Guard Height | mm | 2265 |
| Turning Radius(outside) | mm | 2910 |
| Min. insecting aisle | mm | 2920 |
| Max. Gradeability | % | 20 |
| Wheel Base | mm | 2100 |
| Service Weight | kg | 6980 |
FLIFT brand forklifts CE approved: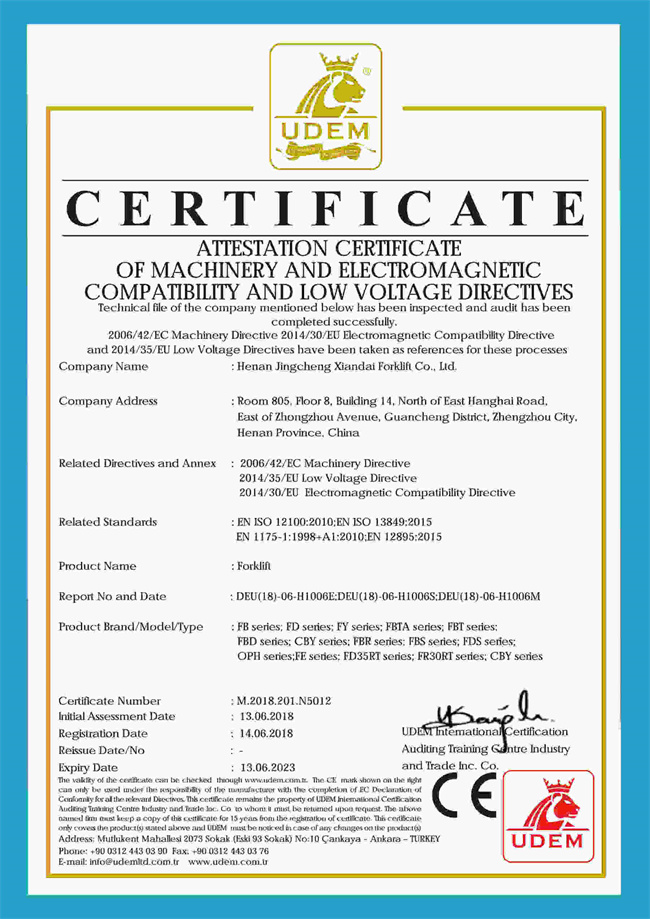 FLIFT 5 ton diesel forklift testing video: