New Design Innovative Electric Forklift Overall Width 1410mm Chinese Engine FD40 4t with Hydraulic Type
Date: 2022-05-23 View:
Automatic intelligence System Battery Forklift Wide-view 2-stage 3meter mast FD40 4t with Comfortable Seat

High Security Performance
> The whole system comes standard with intelligent start system, vehicle hanging gear start preventing, improve safety and extend the service life of the gearbox.
> Seat with belt, provide a more comprehensive security for the driver.
> Overhead guard with high-strength steel plate stamping molding.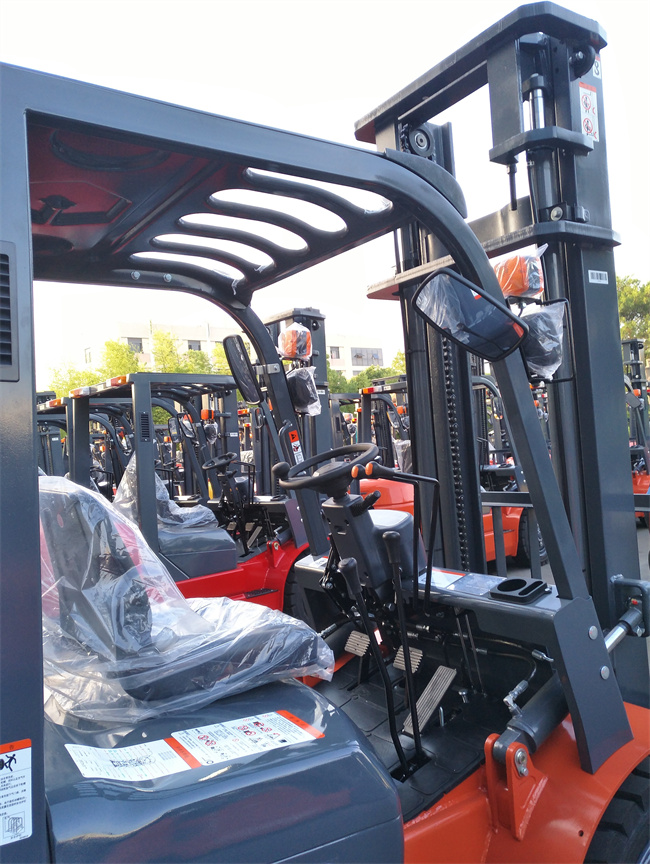 Reliable Lifting System
Wide view mast design, providing superior vision, making the operation more secure.
>High-strength alloy channel steel (20MnSiv), the performance is improved by 20% compared with ordinary gantry channel steel;
>Three-section fully free gantry pipeline design, with the same field of view as the two-section gantry;
>The main side rollers are designed independently.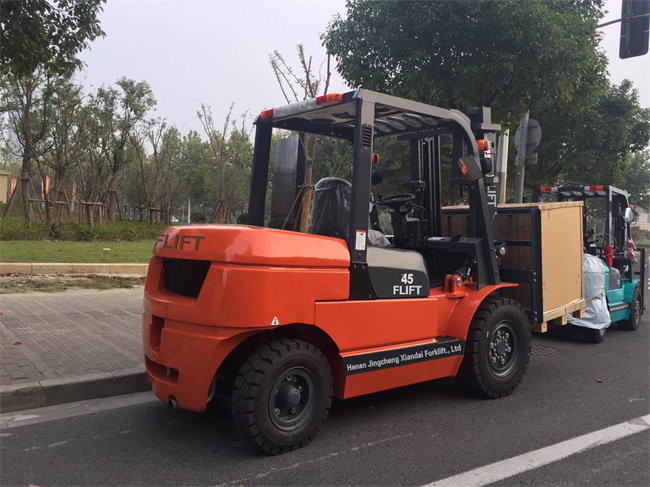 Performance Hydraulic System
The dual-pump confluence hydraulic system is adopted, and the hydraulic control valve integrates the active diversion technology to improve the working efficiency and reduce the energy consumption of the whole machine.
>Tilt cylinder, lift cylinder and steering cylinder are equipped with imported oil seals;
>The hydraulic system is equipped with large-capacity oil suction and oil return filters as standard to ensure long-lasting and efficient operation of the hydraulic system.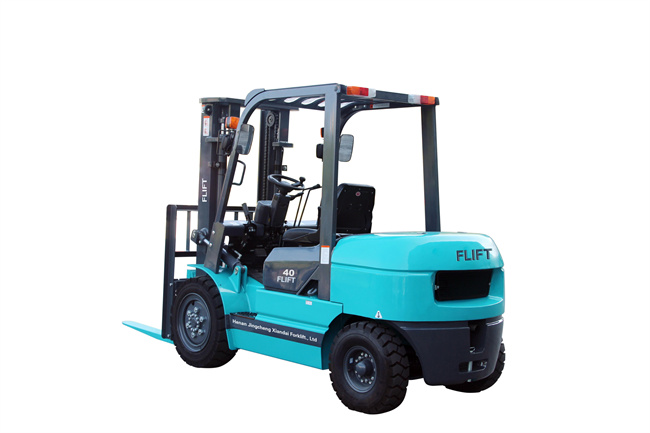 Variety Kinds Of Options
In order to meet different transport and operating conditions, 4.5T series forklifts provide a wide range options.
>Provide diesel, gasoline, LPG fuel power;
>Provide two types of transmission, mechanical and hydraulic;
>Overhead guards of various heights.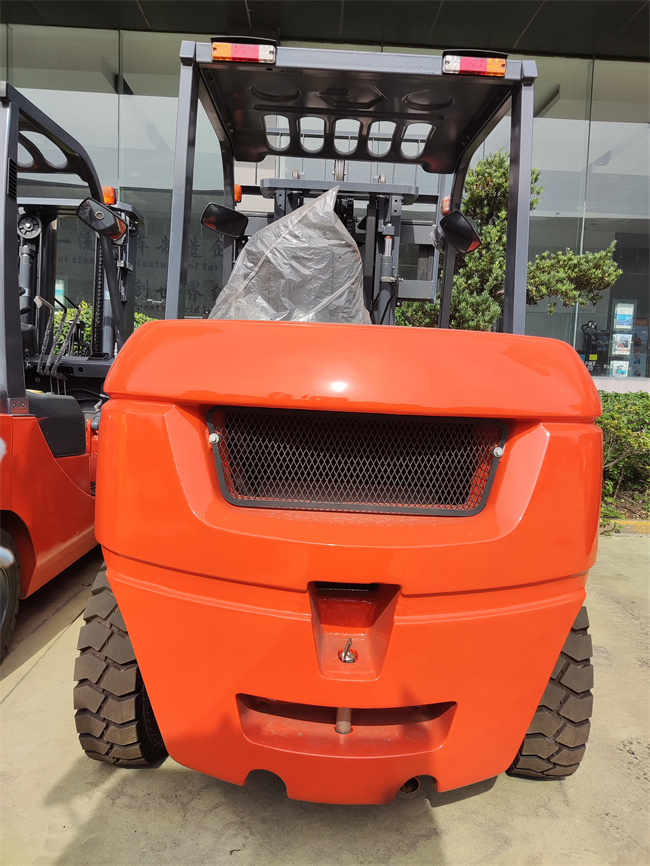 Engine Exhausting And Braking System
> Engine intake with high independent channel, dust prevent at the same time effectively enhance the engine intake, so that the engine can burn more fully.
> Cooling system meet the requirements of the China I standard. The inter-cooling, scattered water, oil scattered are independent layout,which greatly increase the engine, gearbox and other core components quality.
> Standard high-performance vacuum power, full hydraulic power brake system, effectively enhance the reliability of driving and emergency stop.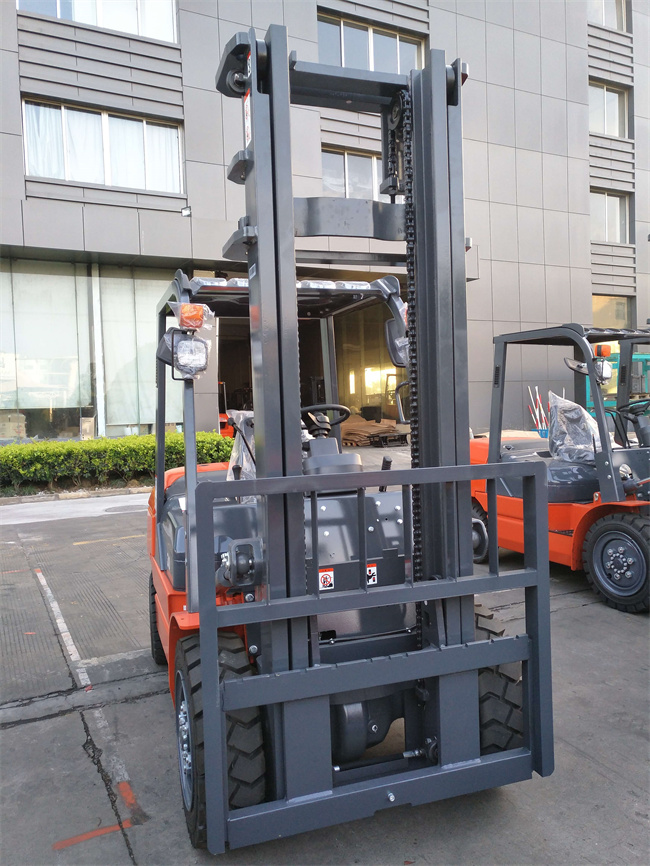 Comfortable Driving Space
Comfortable driving experience, reasonable functional layout, which ensures the operator a long time comfortable and security operation.
>The rear bottom plate adopts an integral pin-type structure, which can be easily disassembled without tools, which greatly improves the convenience of daily maintenance and repair;
>Large open anti-skid pedals, increase the operating space of the legs, reduce the height of getting on the car, and make the operator get on and off the car more convenient and safe;
>Hydraulic joystick designed on the right can provide up to 5 kinds of gantry control




Product Parameters



| | | |
| --- | --- | --- |
| Model | | FD40 |
| Poewer Type | | Diesel |
| Rated Capacity | kg | 4000 |
| Load Centre | mm | 500 |
| Lift Height | mm | 3000 |
| Fork size | mm | 1070*125*50 |
| Mast Tilt Angle | Deg | 6°/12° |
| Front Overhang | mm | 500 |
| Ground Clearance | mm | 135 |
| Length to face of fork | mm | 2890 |
| Overall Width | mm | 1410 |
| Mast Lowered Height | mm | 2330 |
| Mast Extended Height | mm | 4225 |
| Overhead Guard Height | mm | 2110 |
| Turning Radius | mm | 2700 |
| Service Weight | kg | 5100 |

Certificate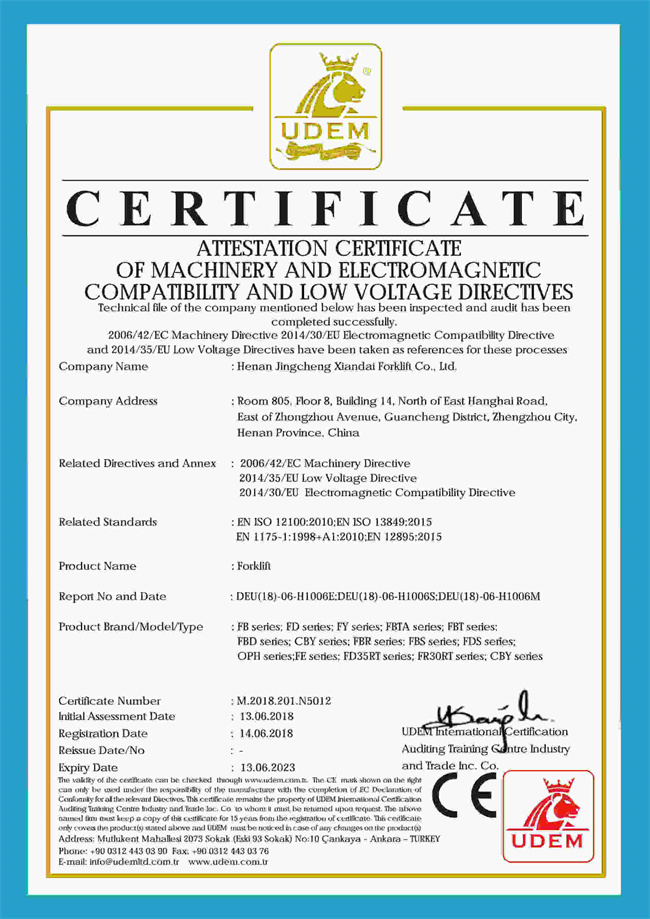 The Video of Product