Chinese Supplier 3000kg Capacity Diesel Forklift Truck With Wholesale Price
Date: 2022-06-06 View:
FLIFT 3 ton diesel forklift T-series FD30 diesel forklifts hot sale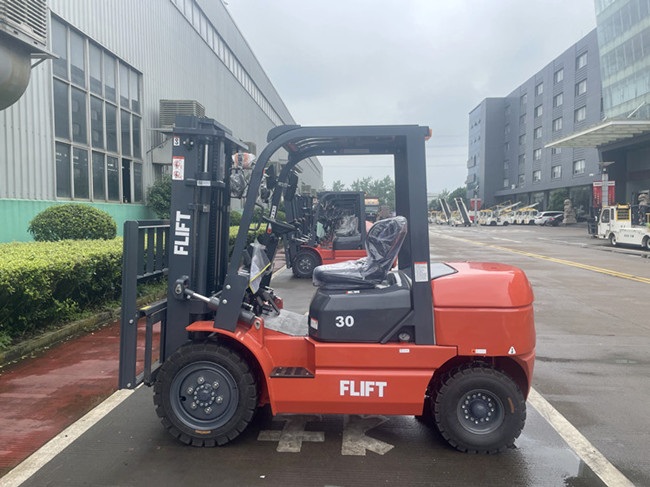 High Security Performance
> The whole system comes standard with intelligent start system, vehicle hanging gear start
preventing, improve safety and extend the service life of the gearbox.
> Seat with belt, provide a more comprehensive security for the driver.
> Overhead guard with high-strength steel plate stamping molding.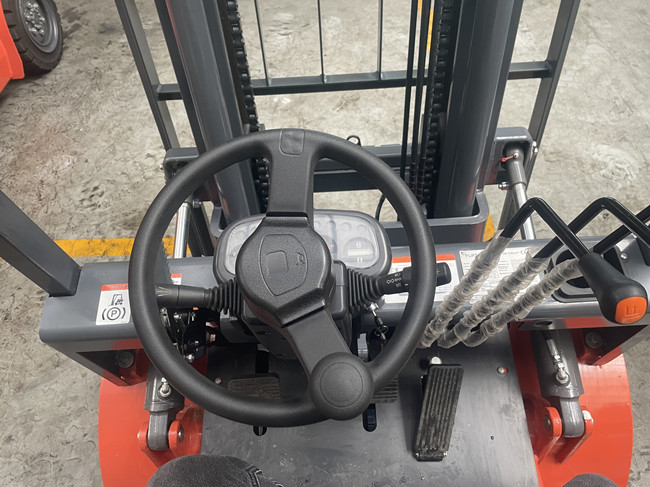 Wide-view mast design, providing superior vision, making the operation more security.
>High strength alloy channel steel (20MnSiv), compared with ordinary door frame channel steel
performance increased by 20%;
>Triplex full free mast pipeline back-mounted design, with a vision same with duplex mast;
> High strength whole casting inclined cylinder support can effectively improve the stress state
of the car body and mast.
>The main side roller is designed independently.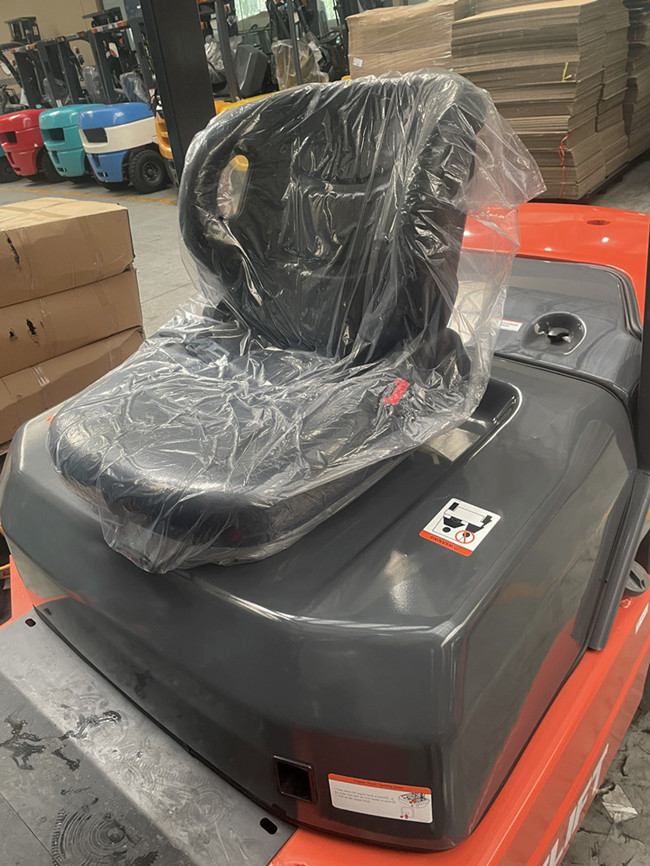 High Performance Hydraulic System
Equipped with load sensing priority hydraulic system, flexible steering, mast lifting speed
increased by 20%.
>Tilt cylinder, lifting cylinder, steering cylinder standard imported oil seal;
>The lifting cylinder is equipped with descent buffer function.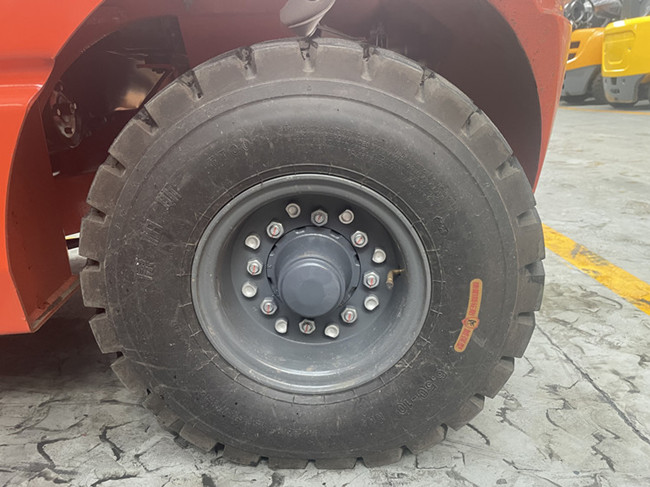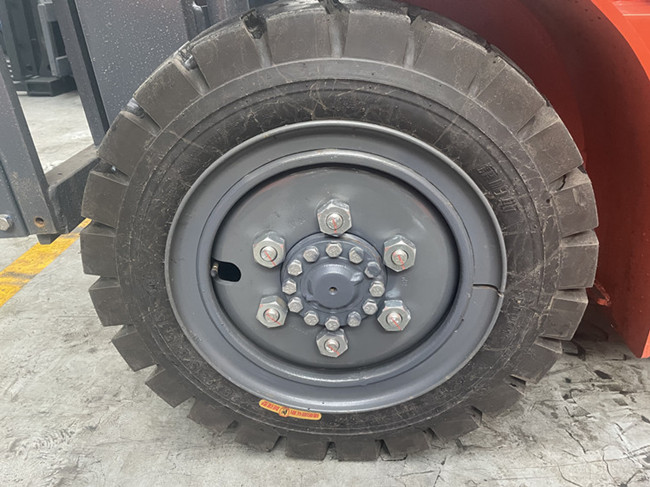 Comfortable Driving Space
Lengthened wheelbase design, reasonable functional layout, super comfortable and large driving
space.
> Large open iron stamping pedal, strong and durable, more safe to get on and off.
> Equipped with front and rear adjustable seats (adjustable up to 150mm) and a small diameter
steering wheel;
> Iron stamping engine cover (opening Angle up to 70°, built-in sound insulation, heat insulation - body forming lining.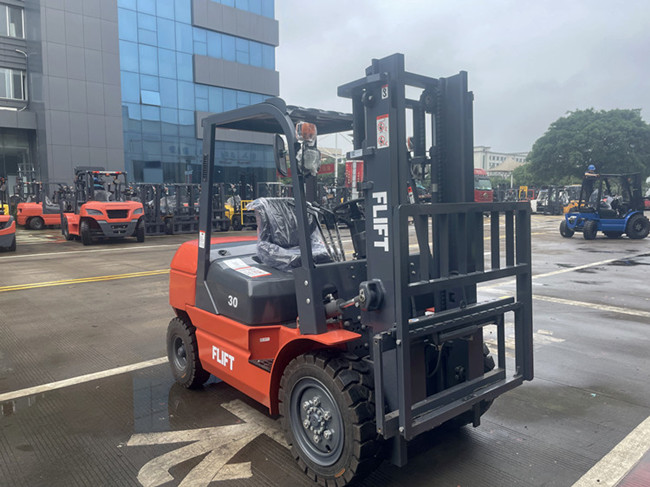 Special Design For Rental Customers
To meet the needs of forklift rental users, T-series forklift launched a series of user-friendly
configuration.
> Standard equipped with lock refueling cover, can be added according to customer requirements
engine hood lock, improve outdoor parking safety;
> Standard high-speed gearbox, maximum driving speed up by 15%;
> Standard 60L large capacity lockable toolbox.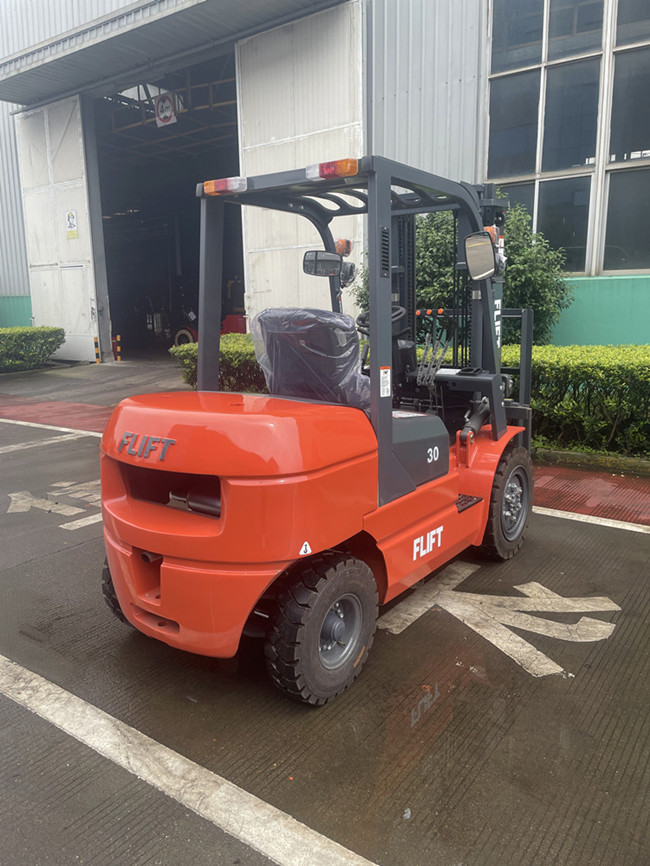 FLIFT 3.0 ton diesel forklift specification

| | | |
| --- | --- | --- |
| Model | | FD30 |
| Rated Capacity | kg | 3000 |
| Load Centre | mm | 500 |
| Lift Height | mm | 3000 |
| Fork Size(L*W*T) | mm | 1070*125*45 |
| Mast Tilt Angle(F/R) | Deg | 6°/12° |
| Front Overhang (Wheel Center to fork face) | mm | 480 |
| Ground Clearance (Bottom of mast) | mm | 140 |
| Length to face of fork(Without fork) | mm | 2780 |
| Overall Width | mm | 1230 |
| Mast Lowered Height | mm | 2115 |
| Mast Extended Height(With backrest) | mm | 4175 |
| Overhead Guard Height | mm | 2110 |
| Turning Radius(outside) | mm | 2520 |
| Min. intersecting aisle | mm | 2580 |
| Travel(Empty load) | km/h | 20 |
| Lifting(Full load) | mm/s | 510 |
| Max. Gradeability | % | 20 |
| Wheel Base | mm | 1800 |
| Service Weight | kg | 4150 |
FLIFT forklift CE certificate: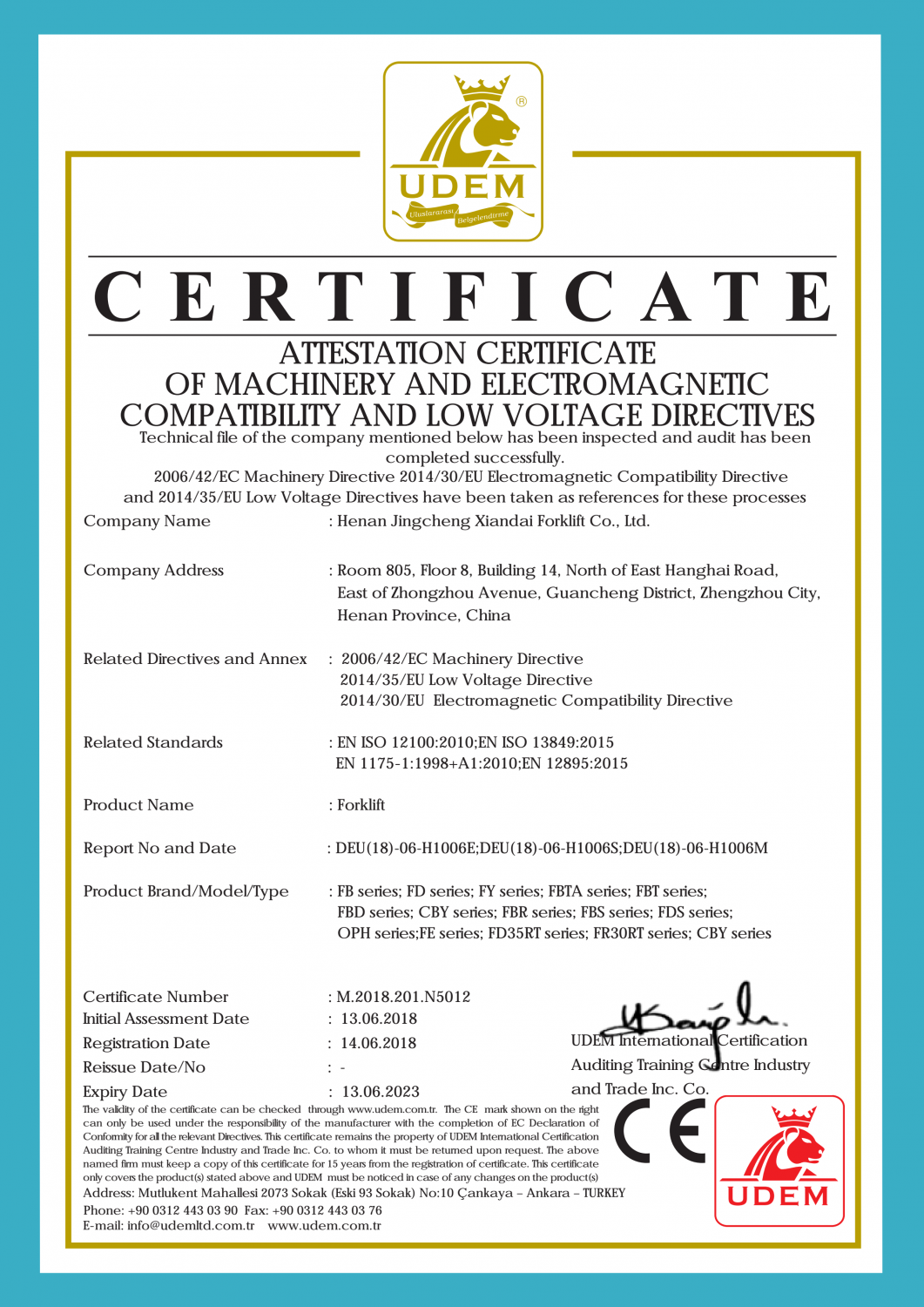 FLIFT 3 ton diesel forklift in testing: