Chinese new narrow aisle operate 2.5 ton LPG short wheelbase forklift cushion tire forklift
Date: 2022-02-11 View:
FLIFT cushion tire serie 2.5 ton short wheelbase LPG forklift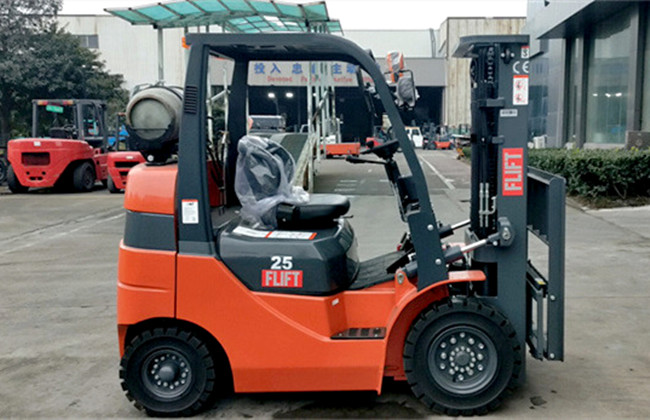 FLIFT the short wheelbase forklift comes standard with a large diameter panoramic mirror, effectively eliminating the blindness of the blind field and improve the traffic safety.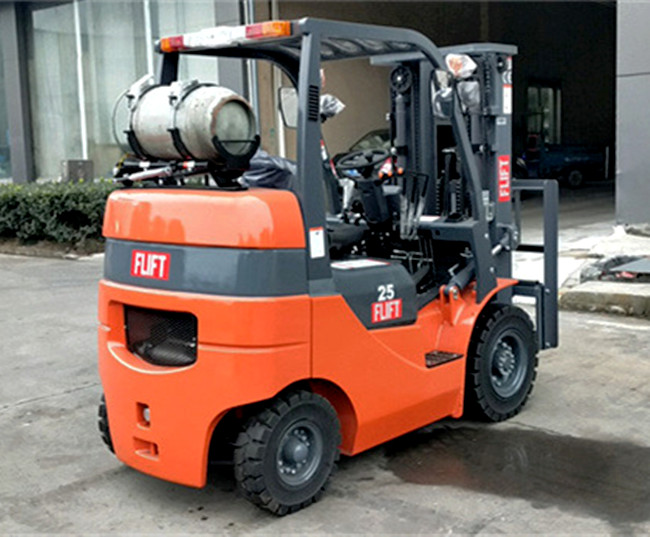 Overhead guard heightening design, the roof with high-strength steel plate stamping. The height can meet the requirements of European and American customers.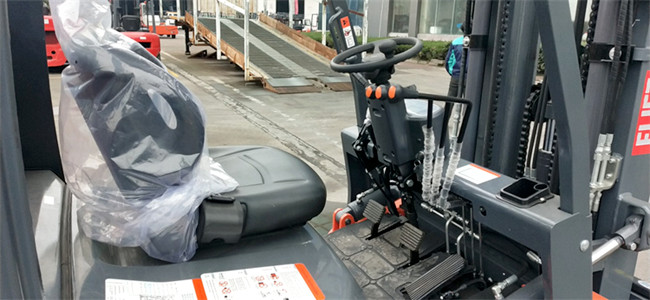 Adjustable seats (adjust range up to 150mm), and small diameter steering wheel, suitable for different drivers.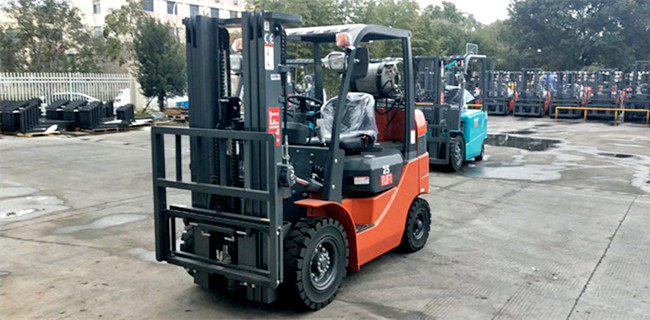 2-stage mast, 3-stage mast, side shifter, other forklift attachments can be optional.




FLIFT 2.5 ton short wheelbase LPG forklift specification

| | | |
| --- | --- | --- |
| Model | | FY25-R4 |
| Rated Capacity | kg | 2500 |
| Load Centre | mm | 500 |
| Lift Height | mm | 3000 |
| Fork Size(L*W*T) | mm | 1070*120*40 |
| Mast Tilt Angle(F/R) | Deg | 6°/12° |
| Front Overhang (Wheel Center to fork face) | mm | 445 |
| Ground Clearance (Bottom of mast) | mm | 80 |
| Length to face of fork(Without fork) | mm | 2355 |
| Overall Width | mm | 1110 |
| Mast Lowered Height | mm | 2070 |
| Mast Extended Height(With backrest) | mm | 4070 |
| Overhead Guard Height | mm | 2080 |
| Turning Radius(outside) | mm | 2110 |
| Min. intersecting aisle | mm | 2316 |
| Travel speed(Empty load) | km/h | 17 |
| Lifting speed(Full load) | mm/s | ≤600 |
| Max. Gradeability | % | 20 |
| Tire (Front) | | 21*7*15 |
| Tire (Rear) | | 16(1/4)*6*11(1/4) |
| Wheel Base | mm | 1400 |
| Service Weight | kg | 3655 |
| Battery Voltage/Capacity | V/Ah | 12/80 |
| Engine Model | | K25 EPA |
| Manufacture | | NISANN |
| Rated output/r.p.m. | kw | 42/2700 |
| Rated torque/r.p.m. | N·m | 185/1350 |
| No. of Cylinder | | 4 |
| Bore×Stroke | mm | 89*100 |
| Displacemaent | L | 2.488 |
| Fuel Tank Capacity | L | 55 |
| Transmission | | Hydraulic |
| Operating Pressure for Attachment | Mpa | 18 |

FLIFT forklift CE approved: